About Astana city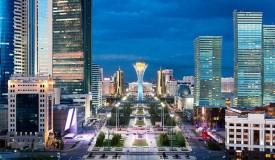 Population: 861,968 people
Currency: Tenge (KZT)
Location: central Kazakhstan, on the Ishim River
Climate: sharply continental
Time zone: GMT+06:00
Postal code: 010000-010015
Area code: 8 (7172)
Official website: astana.gov.kz/en

Astana is the capital and second largest city (after Almaty) of Kazakhstan. Called as "the Central Asian phenomenon", Astana is a dynamically growing administrative and business centre with advanced infrastructure and perfect opportunities for making business. Politics and government are the main economic activity in the capital, which also forms a Special Economic Zone.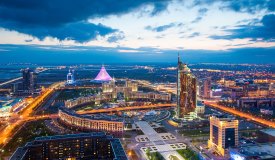 Astana is not only center of Kazakhstani politics and government but the center of the Eurasian space where various meetings on political, economic, social and cultural issues of the present take place, involving more and more foreign investments, where architectural masterpieces are erected and the most courageous projects are implemented.
Astana, being a future-ward city is you opportunity to enter Kazakhstani and Central Asian markets.
Sightseeing In the centre of town, the Avenue of the Republic acts as the main hub of activity. It is bordered by many stores, coffee houses, restaurants, night clubs. Worth a visit are the Modern governmental quarter , Ishim River waterfront, "Oceanarium" , Astana Central National Mosque, Islamic Center, Roman Catholic Cathedral, Market hall, Bayterek Tower. Museums: Presidential center of culture, Kabanbay Batyr mausoleum, Ethic memorial complex "Map of Kazakhstan "Atameken"", The S.Seifullin Museum, Museum of the First President of the Republic of Kazakhstan.