Participation Fee and Format
- Equipped expositional space.
Includes: building of standard booths
- carpeting,
- walls,
- a table (70x70),
- 2 chairs,
- 2 spot-lights,
- hanger,
- waste basket.
Minimum booth space – 8 sq.m.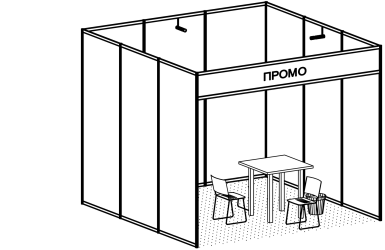 - Raw expositional space.
Without equipment, carpeting & electricity.
Minimum expositional space – 15 sq.m.

The cost of expositional space includes:
- security of pavilion,
- hotel reservation.

The price for corner booth will be increased to 10 %, the price for peninsular booth will be increased to 15%, the price for island booth will be increased to 20%.

The registration fee.
It includes: general advertising of the exhibition in mass media, entry to the official catalogue of the Fair (no more than 15 lines), 1 Fair catalogue, provision of full information and Fair program, badges, participation in all events of the Fair, 2 invitations to the official reception.

Participation as an official visitor
Companies participating at the Fair as a visitor without a booth exercise all rights and privileges of the exhibitors.

It includes the following:
• entry to the official catalogue of the Fair;
• 1 fair catalog, 1 badge;
• 1 invitation to the official reception;
• participation in all official events of the Fair program.

All companies participating as a visitor should submit Application-Contract for the visitor (Form 7) and send it by fax or post to the organizers no later...

Informational participation
Companies choosing Indirect Participation without a booth can place information about company activity in the Fair catalogue. The cost is 100 € for not more than 10-15 lines, plus complete address, contact numbers, e-mail and web-site. After finishing the Fair 1 catalog will be sent to the participant's address.

Advertising in the Fair catalogue
Exhibitors, buyers and any other companies not participating in the exhibition, can place an advertisement in the Catalogue. The cost is as follows: One page advertisement 210 x 210 mm: 4 color - 135 EUR.
For further details please contact KAZEXPO IEC